How To Play PubG Mobile And What Are The Best Settings To Play PubG Mobile ?
Want to know how to play PubG Mobile and become a Pro player with the best in-game settings? Here is a guide by an expert to help you win most of the matches as a newbie player.
PubG Mobile has created a never-ending buzz in the market and gamers of all age groups are loving this game a lot. Please note that its addictive and offer thrilling gaming experience. Whether you talk about its graphics, gameplay experience, or levels, this game has got everything to amaze you.
So, here is everything that you want to know about the PubG Mobile 2018-19.
The Best Settings To Play PubG Mobile
Login process
You can start as a Guest, use Twitter, or Facebook to sign-in on PUBG Mobile. Facebook or Twitter login means you've to connect to your gaming account, and after that, the game will start auto-syncing your data. So, if you will switch to a different phone or tablet, you won't lose your entire game progress.
Mobile Settings
PUBG Mobile is now popular demand, and your phone must be at its best to offer you the best gameplay experience. Remove anything that you do not need on your mobile, quit all the other apps running in the background. Disable the data saver and the battery savers, disable the night mode for the great experience. You can also disable the auto-brightness.
Choose The Best Network
There's nothing much to do here, however, for a lag-free experience, you will need a good connection to the PUBG mobile servers. The mobile network usually has variable speed, so Wi-Fi is the best option.
Best Audio Experience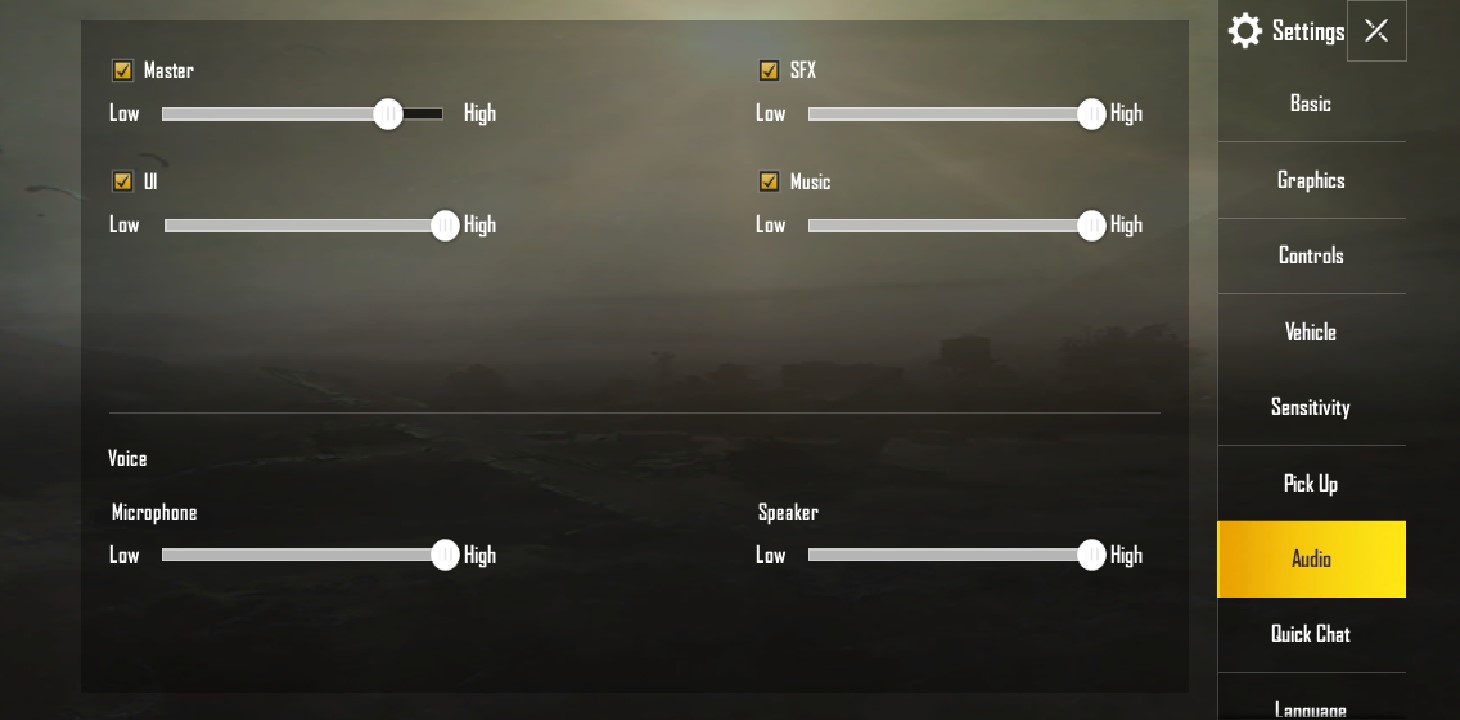 PUBG Mobile has great audio, and usually, the speakers on your mobile won't give the best output. Connect your headphones for a far more immersive experience, and it will also helps you to pinpoint the approaching enemy.
PUBG mobile Lobby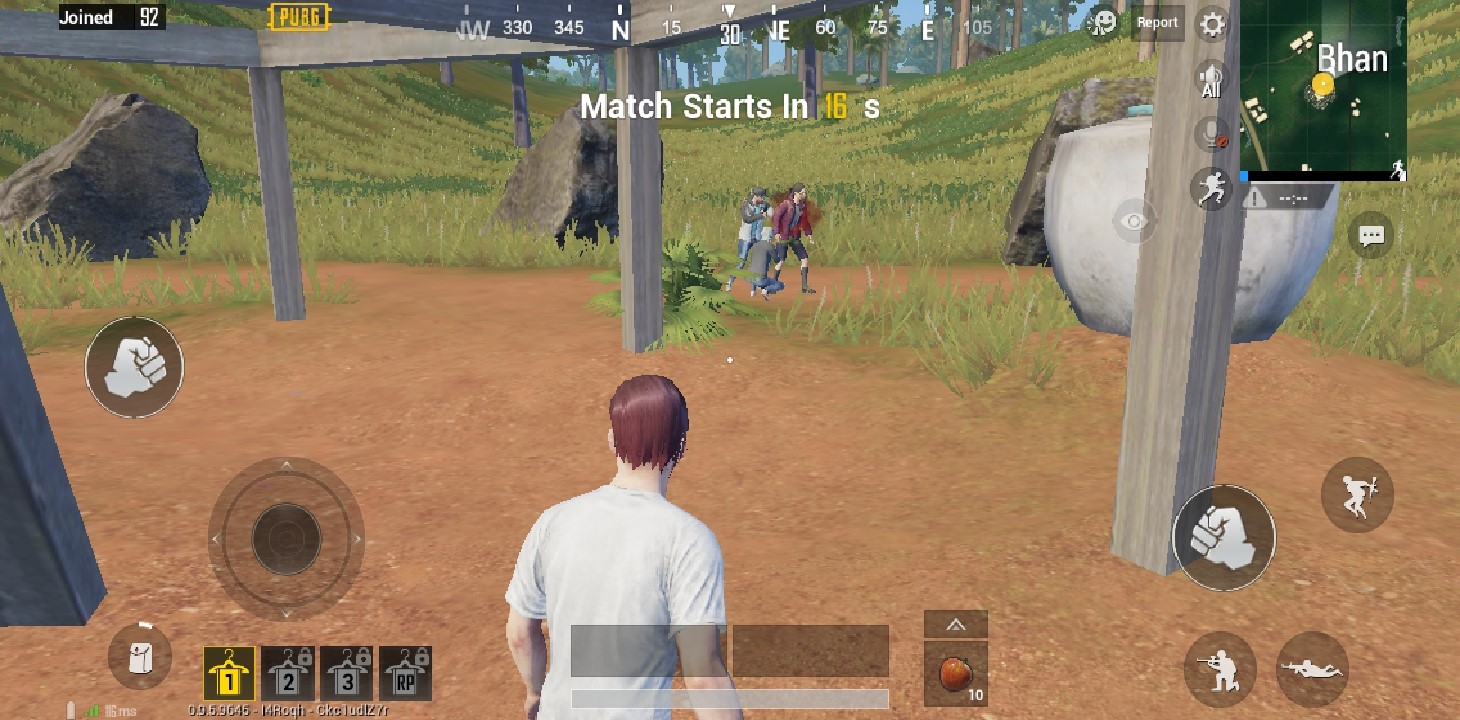 Once you start the PUBG mobile game, you'll land to the lobby where you can change the complete range of settings, select your game type, claim rewards, manage your inventory and organize your friends.
Choose The Region server
Below the big start button, you can see a field to set up your game type, including the server. Tap here, and on the right, you'll see all the different servers. If you're trying to choose and play on the North America server from elsewhere, you may get a laggy experience, so check the ping.
Adjust The Framerate
Tap the settings icon which is located on the bottom bar on the right, then Graphics. Here you will find the frame rate. If things are looking choppy, you might go for the low resolution. If you have a robust phone, then try high.
Adjust the Graphics
You will be prompted when you initially sign-in, but you can adjust the PUBG Mobile graphics level too, to control the detail. Higher graphics level is much better as you will see more, but that will adversely affect performance. There's also an auto/balanced option – to keep the gameplay smooth, and auto adjusts the settings for you.
Adjust The Aiming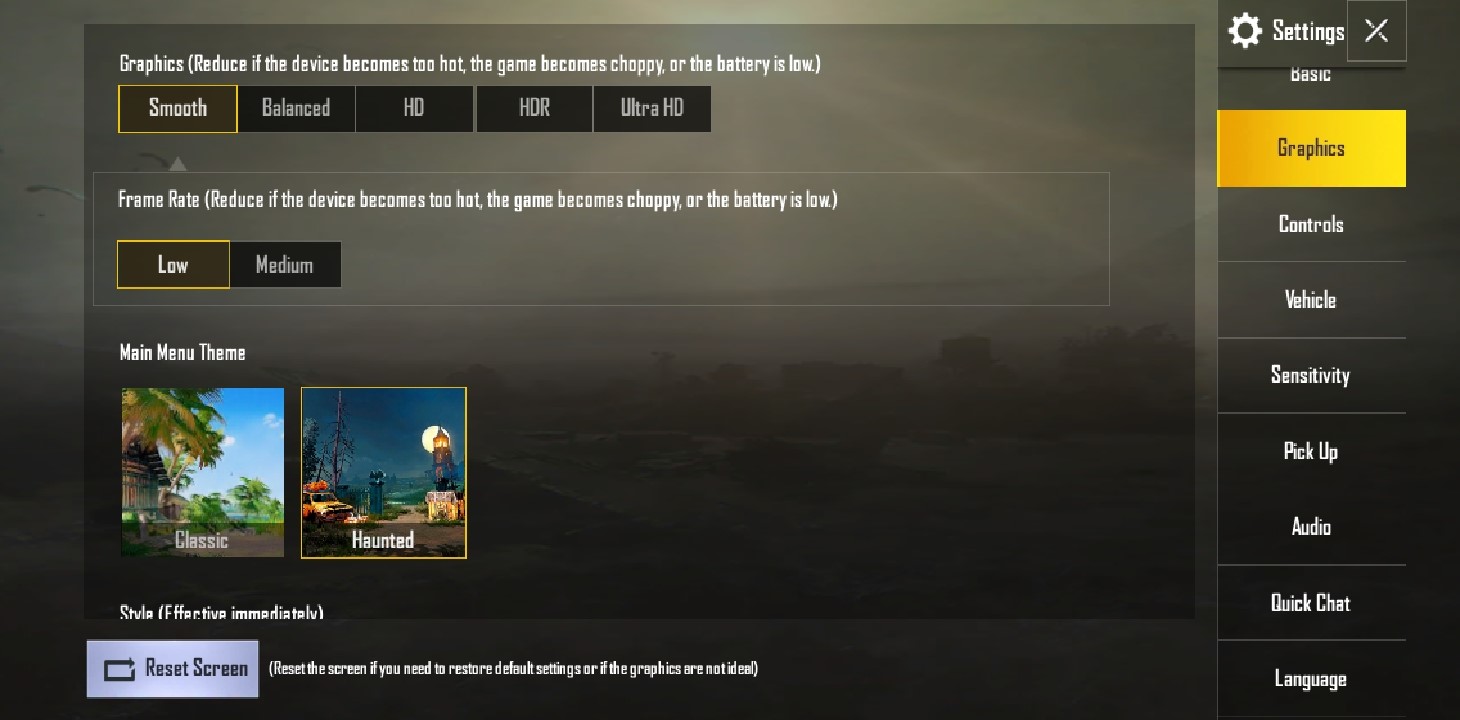 Tap the settings icon which is in the top right-hand corner, then Basic. Here you will be able to change the color of the crosshair. Aim Assist can help you hit the target. It's in settings > basic.
Note- The above PubG Mobile settings will change during the gameplay, so you will be able to activate the fly and change if you do not like the results. Well, changing the graphics level needs a game restart.
Get Clothes In The PUBG Mobile
In the beginning, you will get nothing but underwear, but you can always accumulate clothes in your inventory. You can purchase clothing with real money in the PubG Mobile Shop as well, or you can unlock clothes as you play by earning BP and opening crates. You will always find a variety of clothes in the gameplay.
Speaker And Mic Settings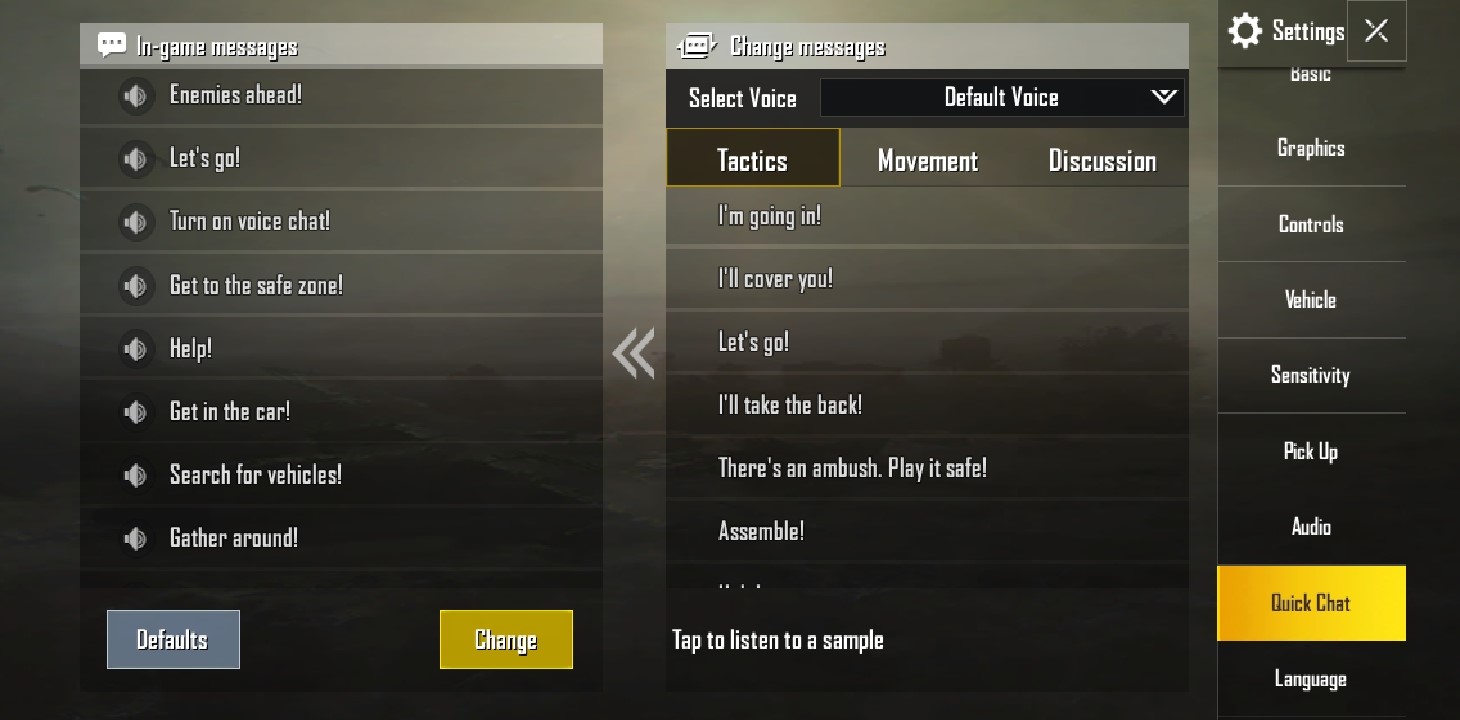 PUBG Mobile has an in-game voice channel, with controls to switch off the mic or speaker for voice or adjust the levels. In settings > audio, you will find the controls. If you do not want to listen, just turn off speakers. Once you begin the gameplay, you can easily turn your personal mic on/off along with voice from other players. From version 6, you can mute any specific player. However, you can't turn off text chat for the team.
Adjust The Controls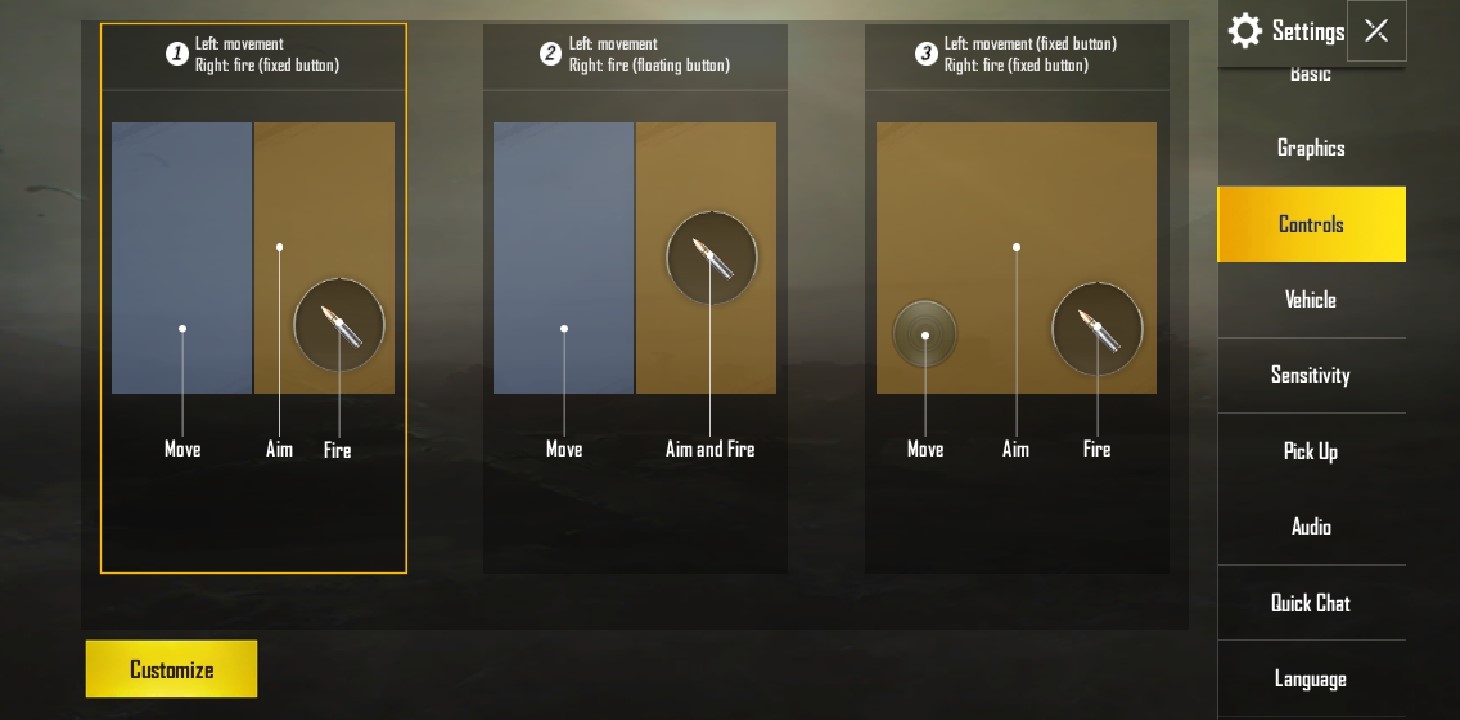 PUBG Mobile offers different controls for vehicles and foot, and you are can easily adjust both. Go to settings > controls or you can also go to settings > vehicles, and you will find the choices for defaults.  You can even customize the in-game UI. In the controls area, there is a customize option. There you can set up different schemes, by which you can change the transparency of the icons, the size, and the positioning to match your preferences. Just play the PUBG mobile game a little before you begin moving them.
How To Play PubG Mobile And Different Gaming Mode in PUBG mobile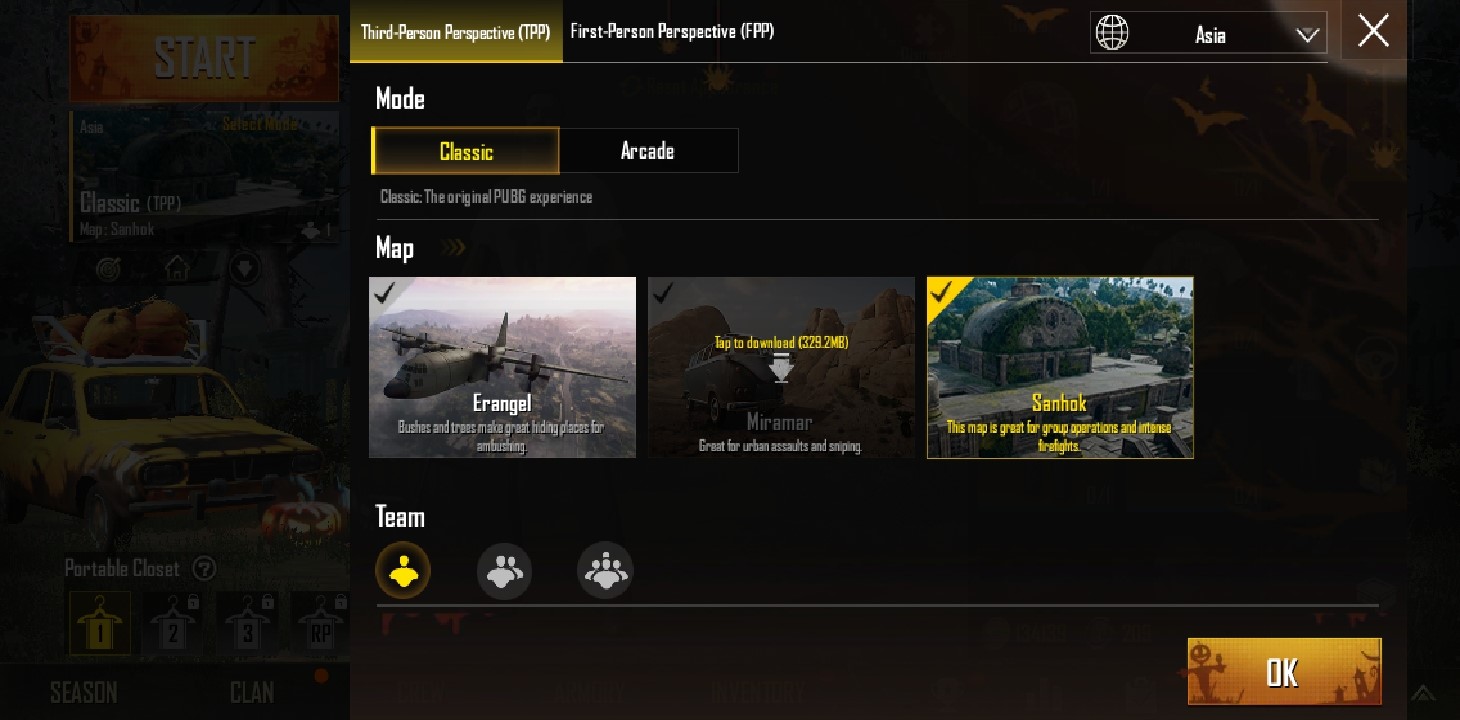 There is a various method to play PUBG Mobile, with each update bringing a brand new approach. While in the Classic MODE, the game remains exactly the same, the Arcade mode has changed in lots of ways. Here is a full breakdown of the existing gaming modes in PUBG Mobile.
Everything listed here is accessed via the button beneath the start button – that's where you configure the overall game type you're likely to play and how.
Choose the Different maps
In the latest version of PUBG mobile, you will find three maps – Erangel, Miramar and Sanhok. You will see the option to choose the map when you hit the game type button. If you choose all, it'll randomly select one for you. Different maps have different battleground and some exclusive vehicles or weapons.
Select The Solo, Duo Or Four play
You can select and play any of the game modes by yourself, as a duo or in the four-player squad, this option is simply beneath the maps. You will find daily missions for various kinds of games, so it's worth mixing it up. Sometimes you only want to destroy everyone; sometimes you will need a squad.
Third or First-Person Mode
The first person perspective (FPP) in PubG Mobile provides you with an alternative view. At the top of game mode selector, you will begin to see the choice for FPP or TPP (third-person perspective). Both gaming views are ranked separately, so be sure you play both.
Play With Same Speaking Language Teammates
It is a new addition in the updated latest version of PUBG mobile. As opposed to getting dumped with a person or team speaking a different language, there's now a choice to choose two languages as a preference. That'll make an effort to partner you up, in order to at least communicate easily. You can find it in the game mode selection area.
Classic Mode
Select the Classic mode for the longer 100 player game. It will give you the original PUBG Mobile experience, enjoy a complete roster across the whole map. Also, you're free to change your team and the map for Classic games. We still think Classic is all-time best, with games taking about 25-30 minutes to accomplish.
Arcade Mode
Arcade modes: Quick Match, War, Sniper Training and Mini-Zone. You'll have a random selection or determine which you wish to play.
Quick Match- In the arcade mode, it is an 8-minute match in a tiny area of the map, usually with a weapon theme, like SMGs or shotguns.
How To Play PubG Mobile Like A Pro?
Jump Wisely
PUBG Mobile plots the trail of the aircraft throughout the map, so you will be able to see where you will be flying over. It will inform you exactly how many people are left on-board. So you will have a good idea of the player distribution throughout the map. With this idea, you can make your INFIL point, avoiding areas filled with other players. Bigger towns attract more jumpers if you wish to play survive or die, jump right into a town.
Reach The Battleground Faster
The moment when you're out from the aircraft, push forward through the controller and you will start diving towards the ground. It will get you to the battleground faster, so if you are not drifting down, others will be gathering the weapons and preparing to slaughter you. Your parachute opens automatically, so you do not need to bother about that.
Stay In The Safe Zone Of The Map
The map can be your best friend since it demonstrates to you the gaming area, which decreases throughout the game. You will have to stay inside this area, or you will die slowly. Drop a marker on the map, and you will view it in your compass to assist you to navigate to a secure area. You will need to zoom in as the gameplay progresses, especially towards the closing stages.
Avoid the Red Zone
The map also demonstrates to you the red zone, that is an artillery barrage. If you're in the red zone, there is a good chance you will get hit, although if you are in a building, you will manage to ride it out just fine.
Pick Up The Best Protective Gears
Your baseball or other types of cap looks great, but a helmet stops your head by splitting such as melon (usually). Grab that protective kit in order to avoid damage. Make sure that auto pickup is switched on and you'll replace kit with higher rated stuff when you find it.
Pick Up the Right Weapons
The weapons in PUBG Mobile work like real-world weapons: pistols and shotguns are just good for short range, SMGs are great in enclosed spaces when you need to fire quickly, the assault rifles are good for all-rounders. An assault rifle gun and an SMG gun is considered a superb combo; whereas two pistols are not. In the latest version, there is the armory where you can see the characteristics of all weapons and mods.
Attach the Extensions To The Weapons
Most of the weapons are adaptable with scopes and holo sights ensure it is much simpler to hit the target. At the beginning of the gameplay, manually grab sights and scopes you will find, so they'll then add to the weapons you collect. Bingo, you will be dropping enemy in no time. When you have spare sights, share them together with your team.
Use the Silencers
Stealth can be your friend in PUBG because gunfire is situated on the map for enemies which are close by. Silenced weapons ensure it is much harder for other players to find you. You will find silencers for most of the weapon types (AR, sniper, SMG, pistol). However, you may need to manually add it to your weapon once you've found it in the event that you currently have a compensator fitted. Silencers don't change the ballistic properties of weapons.
Raid The Laying Down Crates
Once you kill someone, you are able to raid the crate they drop for more stuff. Lay down whenever you get it done because otherwise, someone else in the region will spot the green puff of smoke, then snipe you when you stand there selecting a brand new pair of shoes.
Pick Up The Energy Drinks Or Medicines
You will collect energy drinks in the PUBG mobile game. These provide you with slow energy recovery, but when you smash down two cans, you will get a working speed boost too. Need to perform from the building? Want to get in the game zone? Drink one or two Energy Drinks before you go. Load-up on an adrenaline shot, and it'll continue to assist you to recover and delay the power-sapping effects beyond your play area. It is a great tactic if you land miles away from the play zone and have to go to the safe zone.
Aim to survive in the game- If you want to win, you are able to do so by collecting your weapons, staying out of trouble and killing the peoples. The goal isn't to kill many people; it's to be the last player standing. Hiding and staying out of trouble is an excellent way to complete and win matches.
Carry The Bandages And First Aid Kits
You will find bandages and medkits in the game. The medical kits are important for recovering after having a few shots. If you have the painkillers, these provide you with a gradual health recovery, meaning you are able to pop them down and get moving.
Summary
So, that's how you can play PubG mobile and do the settings for the best gaming experience. Also, read "Avira Free Antivirus Download And Installation Guide" and "What's Microsoft Office 365 Personal | Everything That You Should Know." Thanks for reading this post and do follow us to read more such posts.