Trend Micro Review | Trend Micro Download Links
Interested in Trend Micro review ? Here you will be able to get familiar with most of its aspects including the Trend micro download links .
Trend Micro internet security offers exceptional security and protection at an affordable price. It costs approximately $39.95 for an annual subscription/licence, and you can use it to protect up to three computers. Email scanning, ransomware protection and some decent features like social media privacy check make it one of best security tool for PCs.
So, here we are to expose everything in this Trend Micro Review. Let's proceed and explore everything.
Trend Micro Review
We have divided this review into several parts to give you the right exposure. Here we will be talking about every aspect of Trend Micro one by one, from its design, UI to its Features and performance. So, let's get started with the review now.
Design And Features Of Trend Micro
During installation, Trend Micro ask you to set the Folder Shield. It's nothing but ransomware protection feature of this software. Once you setup that, it will start protecting all your Drive C documents and files automatically. Another best thing is, you can protect any other folders against ransomware as well using this software.
Once the installation gets finished, it runs a quick scan and will give you some advice to optimize your PC on the basis of the scan result. Well, the options are optional, and it all depends on you whether you want to go with its suggestions or not. Another impressive thing about Trend Micro is it's scanning speed. It took only around 1 minute to scan my 250GB storage. Overall, scanning speed is exceptionally good with Trend Micro.
User Interface Of Trend Micro
Trend Micro has got the user-friendly interface which is super easy to navigate. Clicking "Device" on its home interface will take you to the security settings tab, mute functions, system health check-up, and add more device option. Also, you can easily opt to run full, quick and customer scans. However, we don't think that keeping these options inside "settings" is a good idea.
Another decent feature of Trend Micro that we already discussed at the beginning of Trend Micro Review section, social media privacy check, that ensures social networking security and prevents sharing sensitive data over the internet on social channels. To check out its impact, we actually installed a Google Chrome extension and then logged in my social media pages. What happened next is really impressive. It has alerted me about some problems that it has detected with my account. However, those problems were not that big, and thus I had to disable this feature while using social media accounts. Overall, it's one of the cool features that Trend Micro has to protect your social media accounts and data.
The browser extension is also appreciative. The extension actually checks all the URLs on your social media feeds and then gives them the green stamp of approval by a green check sign if they are legit. If you want to get more information about the URL like where it redirects you or whether the website it is linking to is legit or not, then simply move your mouse cursor to the green check mark. It's a handy feature that we have already seen and used with other antivirus software. Also, it's not a cumbersome at all.
Parental Control With Trend Micro
That's another feature of this software that we have included in the Trend Micro Review. It's robust but easy to set up. It will allow you to block websites on the basis of their content type, time limits and even you can block them permanently. The time limit is there so that you can manage your kid's online activity and routine. If you want your kid to not use the internet between 11-11pm on Sunday and Monday, then you set this schedule in this software, and it will take care of things accordingly. Also, it gives you the power to block specific programs at specific times. Overall, it's really easy to use, a well-designed and effective feature that works like a superpower for parents.
Testing Of Trend Micro
We have researched a lot about Trend Micro testings, and the facts we are going to share here in this Trend Micro Review are on the basis of In-depth our search results.
We have gone through the testings done by PCMag to know the best about it. According to the source, AV-Test Institution has analyzed this software in three categories as follows:
Malware Protection
Overall Performance Effect
False Positive Registers (Whether or Not)
After testing, AV-Test Institute awarded Trend Micro 6 out of 6 in each of these categories.
Well, the results of AV-Comparatives for Trend Micro was not that great and is mixed. Trend micro has got two "Advanced," one "Advanced+" and one "Standard" certification in the testing round. Obviously, it's not the best results as we know there are other antivirus softwares like Avira, Bitdefender, Kaspersky and others that have earned "Advanced+" in all three categories. Overall, the aggregate lab score of Trend Micro was 8.1/10. That's decent but not the best. For example, Kaspersky and Bitdefender have scored perfect 10 ratings and 9.6 ratings respectively.
Performance Of Trend Micro
Performance is another significant aspect of this software that we have included in the Trend Micro Review.
When it's about malware (a software which is designed to steal and damage all your important and sensitive data) detection and protection, Trend micro performed really well. Testers have used this software on folders of malware. After the test, it scored 8.4 out of 10, and that means it has abilities to detect approximately 89% of malware introduced to that malware folder. It's an impressive score, but still, it's not close to Webroot's score, which is perfect 100%.
Now, when it comes it malicious website URLs, Trend Micro has done an exceptional job. It successfully blocked more than 80% of the suspicious and malicious web URLs. It also has the malware payload from 13% of the links, and thus it has scored 90%+. There is only software after Trend Micro, Norton Premium has beaten this score with 98% block score.
Overall, Trend Micro performs really well in all the test rounds. Of course, it is not the best but it shows strong performance in most of the ways a software suite can be measured.
So, that's the genuine Trend Micro review. All the points and facts we have mentioned in this Trend Micro review are valid and tested. In the end, we just want to say that it's really great software that can help you protect your system and data in multiple ways from malwares, ransomware and all other potential threats.
So, that's all about genuine Trend Micro Review. Let's now have a look on Trend Micro Purchasing guide and let's go beyond Trend Micro review to explore more related stuff.
Trend Micro Purchasing Guide
Trend Micro comes with several subscription plans to fit your wallet on the basis of your need. Here we have collected all the links to redirect you directly to the Trend Micro purchase page. It's all up to you which plan you choose. So, follow the below links to visit respective purchase page,  explore the packages and pick the best one as per your needs and budget.
Trend Micro Download Links
That's another purpose of this post after Trend Micro Review. Here we will provide you with Trend Micro download links. All these links are genuine, active, 100% safe and virus free. To proceed with Trend Micro download, you need to click on any of the below mentioned links, and you will be redirected to the Trend Micro Download page. There you might need to clear captcha to proceed with the Trend micro download. That's it. Here is the Trend Micro Download Links:
Trend Micro Download And Installation Guide
So, finally, the Trend Micro review has excited you to proceed with Trend Micro download and installation. We have already provided you with the Trend Micro Download links in the above section. So, here we will be skipping to the installation part directly. You need to follow all the below steps as instructed to install the Trend Micro software on your PC.
Step 1: Make sure you've downloaded the setup file following the link we have mentioned in the above section.
Stp 2: Locate the Trend Micro Download file and double-click on it.
Step 3: Now a user account dialogue will appear asking you "Do you want to allow this app to make changes to your PC?" Click Yes to proceed with the Installation.
Stp 4: Right after you click on "Yes," the Trend Micro Security will start extracting necessary Installation files to a temporary folder.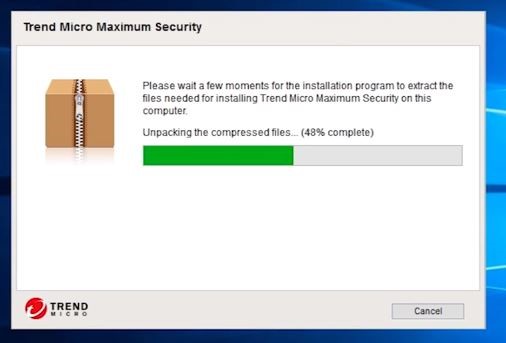 Step 5: Now, the program will automatically scan your PC to define whether your pc is compatible with this software or not.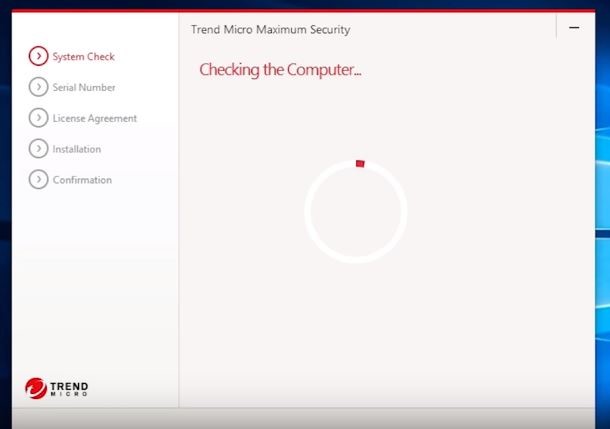 Stp 6: If your PC will pass the above scan test, a screen with version options will appear. If you've bought any Trend Micro plans then simply enter the serial no. here that is provided by Trend micro to you after the purchase.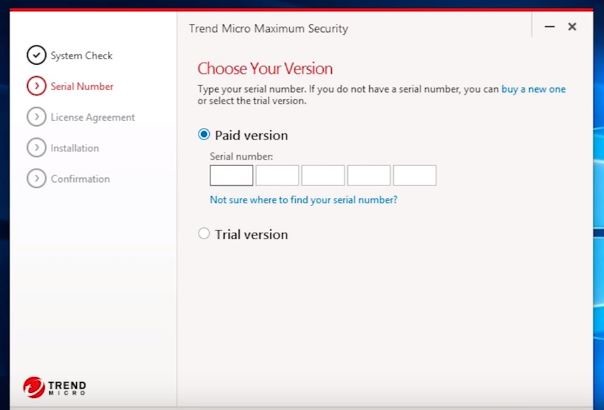 Note: You can proceed with the trial version if you haven't bought any plans yet.
Step 7: Once done, click next to proceed further and install the Trend micro on your PC.
Stp 8: Now the Licence Agreement window will appear. Here you can read all the terms and conditions associated with the installation of Trend Micro software on your PC. Once done, you need to click on "Agree and Install."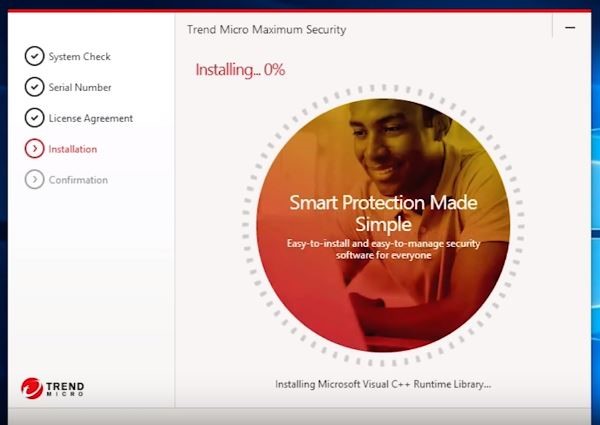 Step 9:
The installation will begin now. It will not take more than a few minutes. Also, Shortcut to access Trend Micro security application will be created on your desktop. Once the installation is complete, a new window will appear asking you whether you want to receive monthly email reports from Trend Micro security or not. Click Yes if you want to receive those notifications and updates on your email. If not, then just click "No" and proceed.
Stp 10: Now another screen will appear asking you to activate your protection. Here you need to enter the email address that you want to use and then click "Next" to proceed. Also, if you've used exactly the same email to activate Trend Micro earlier, you will have to sign in to your account with the password you've defined earlier and click "Next."
If you haven't used your email address to login Micro Security earlier, you will have to sign up. You will be redirected to the sign-up page automatically after entering your email address. Simply, fill in all the details and click next to proceed.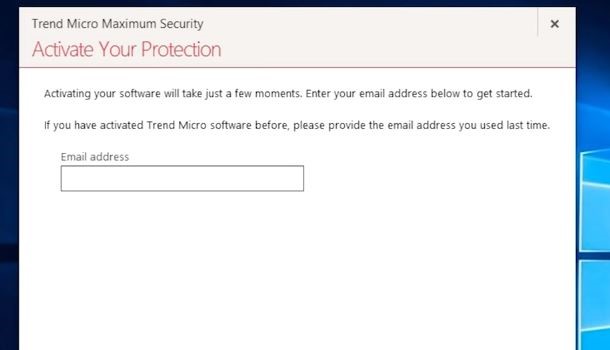 Step 11: Now here you need to enter a name for your PC. Defining a name for your PC will help you to track where you've installed the software. Once done, click Next to proceed further.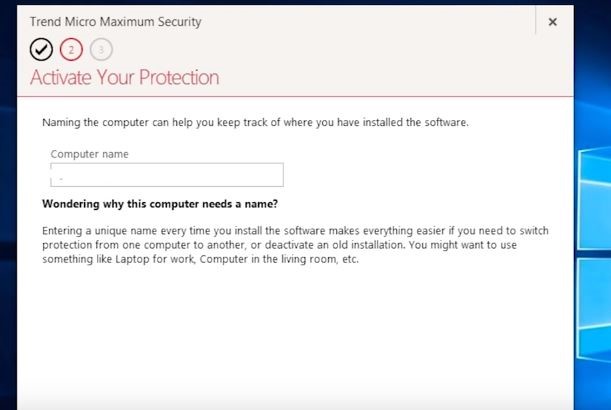 Stp 12: Finally, a screen will appear now stating "Your System is Protected." Now simply click on the "Finish" button.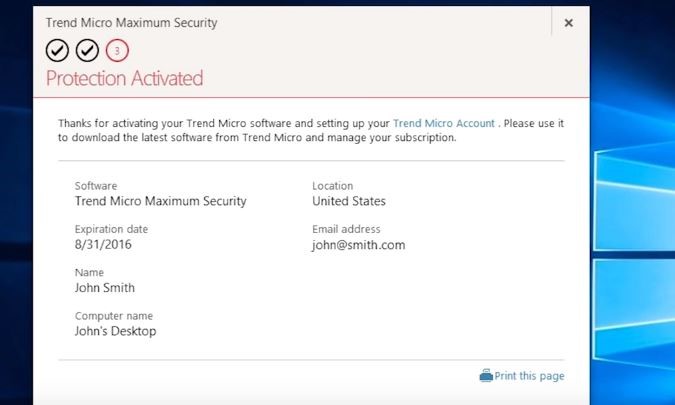 Congratulations! You've successfully installed Trend Micro Security on your PC. You're all set to enjoy the security and protection services offered by this software.
Summary
So, that's all about Trend Micro Review, Trend Micro Download, and Installation. Hope this Trend Micro Review has exposed the real side of this software to you and you won't find any issues with Trend Micro download and installation steps after reading this post. Still, if you face any problem with the steps mentioned above, let us know about that, and we will help you. Also, read "How To Boot Acer Laptop ?" and "Bitdefender Free And Bitdefender Central : Download, Installation, And Troubleshooting." So, that's all for now. Also, do follow us to read more such posts and get updates.